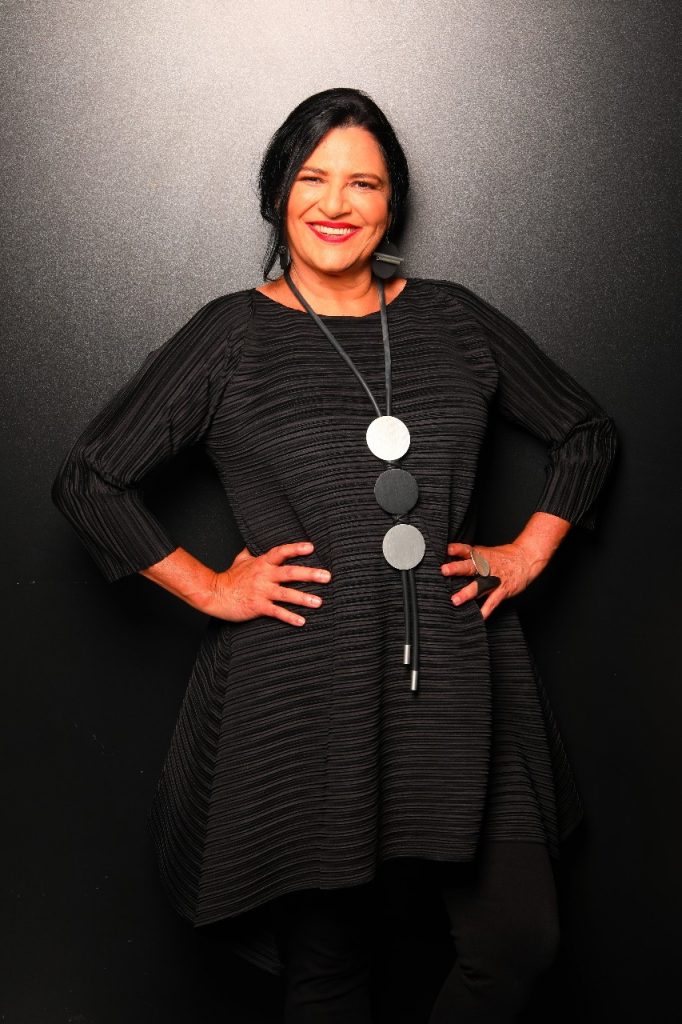 Fortuna, a Brazilian singer-songwriter of Jewish origin, has a musical background of over 30 years, primarily marked by her Middle Eastern, Jewish, Arabic, Spanish and Portuguese Jewish (Sephardi) roots. As a World Music researcher, Fortuna's music bridges across multiple religions and cultures from around the world.
Her research has resulted in a new light to her musical trajectory. Fortuna independently recorded eight albums: La Prima Vez, Cantigas, Mediterrâneo, Mazal, Cælestia, Encontros, Novo Mundo and Novos Mares. These internationally distributed albums have earned the artist critical acclaim and prominent awards. Mediterrâneo was the winner of the 10th Sharp Music Award for best foreign-language album, and the American label Putumayo, which specializes in World Music collections, has included five songs recorded by Fortuna in their collections.
Novos Mares, released in 2016 by the Selo SESC record label, brought forth many innovations in relation to her previous work. It included the most self-composed titles of all her releases to that point, as Fortuna wrote of five of the thirteen songs in the album repertoire, tracing the course of Eastern Jews who left Aleppo (Syria), and the Middle East in general, singing themes in Arabic, Hebrew and French, finally reaching Brazil, with the original song Branca Dias, a tribute to New Christians (Anussim) and Crypto-Judaism, a theme commonly addressed by contemporary historians.
In Mares da Memória, recently presented in Portugal at the MIMO Festival 2019 (Amarante), Fortuna introduced Sopra o Vento (by Fernando Pessoa-Jardel Caetano), as well as all the musical diversity instilled in the Ladino songbook.
In 2018, Fortuna wrote the score and music for the theatrical play Amor Profano, which starred Vivianne Pasmanter and Marcello Airoldi. The script, itself quite controversial, was written by the Israeli Motti Lerner.
Her radio program Todos os Cantos (From Every Corner) unearthed musical gems from all over the globe. It was aired by Radio UOL for twelve years, and was a milestone in online radio history. Subsequently, Cultura FM Radio broadcast the Fortuna-hosted show weekly, for seven years. These broadcasts were also made available online.
She currently hosts the Todos os Cantos Podcast on streaming platforms and on YouTube, bringing musical diversity from around Brazil and the entire globe.
As an actress, Fortuna participated in Andrew Lloyd Webber's musical Joseph and His Amazing Technicolor Dreamcoat, directed by the award-winning Iacov Hilel. The show's success, which is also geared towards children and teenagers, aroused in the artist the desire to focus her attention on children.
Thus, new projects were born.
In November 2008, the singer released, in a production by the Selo SESC record label, the album, DVD and live show named Na Casa da Ruth (At Ruth's Place). The repertoire included poems by writer Ruth Rocha and music by Hélio Ziskind. The live performance was directed by Naum Alves de Souza, and was seen by over 20 thousand viewers over its four-year run.
In October 2012, Fortuna released the album Tic Tic Tati, with poems and stories by writer Tatiana Belinky, and music also written by Hélio Ziskind. Yet another Selo SESC production, it was nominated in 2013 for the 24th Brazilian Music Award in the Children's Album and Visual Project categories.
The musical, created for the album release, was directed by Roberto Lage and was another public and critical hit. The live performance was recorded and released in DVD format, including three bonus animations directed by filmmaker Tata Amaral.
The Tic Tic Tati DVD was released in 2014 and won the State Governor Award in the "Art for Children" category by popular vote that same year.
In 2017, following the successful partnership with Hélio Ziskind, Fortuna released under Selo SESC, her third children's music album: Tchiribim Tchiribom – Cantando pelo Mundo (Tchiribim Tchiribom – Singing around the World). It featured a journey through the musical traditions of peoples and regions from around the world, such as China, Israel, Africa, Italy, Mexico, and New Zealand. Another partnership which resulted from this project was one with the Grand Bazaar group and their Gypsy and Balkan songs. They participated in the recording of the album, co-creating arrangements and performing on all tracks.
The musical created for the release of the album was again directed by Roberto Lage and featured Fortuna as a "singer of stories". Fortuna continued her traditional work of presenting world songs, bringing this universe of peoples and cultures in a fun way for children.
Since November 2019, Fortuna has been releasing singles and EPs that will make up his new albums "Sacred Memories" and "Life", to be released in 2021. This project unites the contemporary with her ancestry. Listeners will soon experience two aspects of Fortuna's trajectory, with the joining of contemporary music with themes of ancestral memory, a blend of facets which marked her career of over thirty years. The repertoire reminisces on some of her oldest partnerships, such as A Lua no Cinema, and Hoje Tá Bonito, written with the poet Paulo Leminski in the 80s, as well as current songs, including Sopra o Vento, a poem by Fernando Pessoa, music written by Jardel Caetano, and Para Além do Céu (Beyond Heaven), by Paulo Tatit and Filipe Edmo.